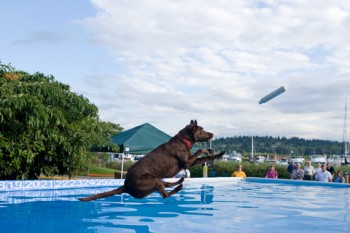 This weekend is Bark in the Park at Clay's Park near Canton, Ohio.  The event started this afternoon, but I couldn't get off work, so we didn't get there until about 6:30 this evening, and it was all over but the crying.
Not to be deterred, we decided to try to get in a little practice while there was no one around.  Unfortunately, Cooper (the Vizsla) is still scared of the water, and Penny (the Beagle) didn't think it was such a great idea either.
We'll enter them each in one wave tomorrow, along with Maggie, the Golden Retreiver, and I'll let you know tomorrow night how it goes.  Don't hold your breath, but please wish us luck!
Until next time,
Good day, and good dog!
Similar Posts: