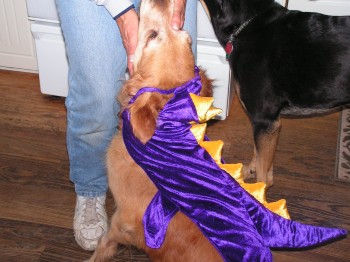 Well, we came home from our weekend trip, and the sitter told us that Maggie had been pretty lazy all weekend, and hadn't moved since after she had eaten Sunday night. By this morning, she still hadn't moved and wasn't interested in getting up, even when we rattled her food dishes.
We tried to help her up, and found she'd lost function in all of her limbs. The brain tumor must have finally gotten to a point where she couldn't do much of anything anymore. We knew it was time.
Kayla even nudged at her and pawed her, trying to encourage her to get up, but she didn't have any better luck than we had.
With the help of our wonderfully compassionate vet, Tim Blocher, Maggie passed at about 9:00 this morning. She was eleven years old and leaves behind her sisters Kayla and Penny, and her brother Cooper. We will love her and honor her memory forever. Rest in peace, Maggie May. You were a very good dog.
Until next time,
Good day, and good dog
Similar Posts: