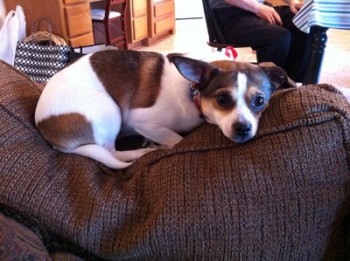 Meet Honey! This beautiful terrier mix is being fostered in Beavercreek, Ohio by Puppy Pals Rescue. Here's what their website has to say about this cutie pie.


Hello, my name is Honey. I'm a tri-colored terrier mix female who weighs approx. 11-1/2 lbs.
I came into PPR due to my owner needing to surrender me because of very expensive medical costs. I had 4 fractures to my back leg which needed extensive surgery and lots of follow-up treatments. Good News – I have made a full recovery due to all the wonderful people at the Vet's offices and especially to Puppy Pals Rescue stepping up and taking on my medical and health needs.
I am up-to-date on all my shots and have been spayed during my recovery. I love to play with my toys and enjoy taking car rides. I seem to ignore the other dogs here – I get along okay with them. I don't need companionship like some dogs, I guess you could say. I came from a home that had children and would prefer them to be older due to my size. I would make a wonderful family dog.
If you're going to be near Ohio, why not contact Puppy Pals to arrange a time to meet Honey and all of her friends. Send an e-mail to [email protected] or fill out an application on their website.
If you're somewhere else, check out PetFinder's Shelter Center to locate adoptable dogs near you.
Until next time,
Good day, and good dog!
Similar Posts: