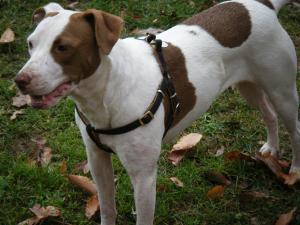 Meet Little Miss. This young Heinz 57 dog is being fostered in Arnold, Maryland by Annapolis Dog Rescue. Here's what their website has to say about this little cutie.

Little Miss is a 1-3 year old female mystery mix. She has some hound spots on her underbelly, the jump in her legs of a terrier and from what we heard there is also some setter in her. She is petite with 39 pounds, yet compact and strong. Our best guess is a smooth coated fox terrier mix.
She will stay close by you, once you become her friend and does not run away. You will not notice her as she follows you,respectfully without making you trip, yet she will be right by your side. She would be a wonderful companion for an older couple with a calm household. She barks at intruders to protect her people, but will stop as soon as you show her it is a friend.
Little Miss was very timid at first and we thought this will be hard , but within a few days she attached herself to us. We gave her space and she came to us. She seems to warm up faster to women.
She is a very loving, tail wagging and loyal dog. She loves other dogs and to play with them. She is gentle in the mouth and , while she jumps high for joy in front of you, she does not jump on you . Her jumps and sprints are breathtaking. She would be an exceptional agility dog. She is fantastic on the leash and behaves well in the pet store. Loves, loves loves to ride in the car and to go and explore.
If you're going to be in Maryland, why not contact Annapolis Dog Rescue and ask to meet Little Miss and all of her friends. Send an e-mail to [email protected] or fill out an application.
If you're somewhere else, check out all of the adoptable dogs in your area at PetFinder's Shelter Center.
Until next time,
Good day, and good dog!
Similar Posts: