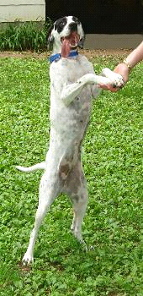 Meet Katherine Hepburn. Here's what she wrote on Chocolate Chip Dalmation Assistance League's website.
Hello, I am Katie and I am a pretty, petite, female, 1-2 year old Dalmatian mix that was pulled from a local animal shelter in Maryland. I was very happy to go home with my foster mom and run around in her big yard! I am told that I can be very charming especially when I cock my head and put my ears up.
I am also playful, curious, and energetic. Every day is like a new adventure with a yard to explore, birds to listen to and try to figure out where all the chirping is coming from, and squirrels to watch. I love to play, play, play and run around the yard with my two other foster brothers (Cary and Astro). I also understand the word "ball" and will go look for it and hopefully find it when you tell me to, but I am not going to give it back right away! I like to run around and play with it on my own.
I am very pretty when I sit and am working very hard to not jump up and understand down, but it is easy to forget when I get excited to see someone or smell something yummy in the kitchen! I also would love to come up and sit in your lap, but am undrstanding that I need to be invited or I have to stay on the floor. I am told I am a smart girl and am learning quickly.
At the end of a big day, I like to curl up in my crate and will burrow down for the night in my big, soft blanket. I sleep easily through the night and am ready to go the next day. I also snooze patiently in my crate while you are gone and ready to go when you come home with my tail wagging and wagging.
I am spayed, housebroken, up to date on shots, and on heartworm and flea/tick preventative. I also have no health problems and love playing with other dogs. A buddy would be wonderful! I would benefit from continued obedience training and clear, consistent direction. If you think I am right for you, please fill out an adoption application.
If you're going to be in Maryland, contact Chocolate Chip Dalmation Assistance League by calling 301-434-1086 or e-mailing ccdal AT Comcast DOT net to set up a time to meet Katie and her friends. If you're not near Maryland, check out PetFinder's Shelter Center to find adoptable pets near you.
Until next time,
Good day, and good dog!
Similar Posts: