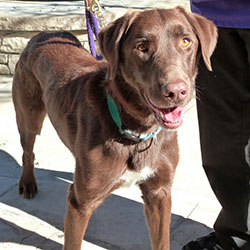 Meet Reuben! This cute 4 year old Chocolate Lab is living in foster care in Golden, Colorado, courtesy of Safe Harbor Lab Rescue. Here's what their website has to say about this handsome boy:

IIf you're a lover of affectionate Chocolate Labs who are a little ball crazy, we bet you'd like to meet 4-5 year old Reuben. He needs to plump up a bit from his current rather thin 57 pounds and told us he's ready to be tempted and treated with good eating until he's a perfect 65ish pounds. He's got a great coat and a magnificent tail.
Reuben is housetrained, a good boy with free roam of the house, knows sit, down and to come when called. Treats are taken as gently as a whisper. He's a polite and happy greeter who is friendly with everyone. Overall, he's a kind, quiet, well behaved and pleasantly active Lab who is very companionable. In the car he rides without a peep; he's a delight to walk on an Easy Walk Harness. Both dogs and cats have lived with Reuben and give him two paws up.
Reuben is a sweetheart of a Lab who is happy to sit next to you and be petted and loved. He also loves, and we mean LOVES, to play fetch! Toss a ball, a rope toy or just about anything, and he's after it like a chocolate streak! He's back before you know it ready for the next toss, happy and as tickled as can be you're playing with him. The only thing he loves more than fetching is being with people. He'll be happiest in a home with kind leadership, structure, lots of ball playing and walks, and where his people are home more than they are away. "There's no such thing as too much lovin'!" woofs Reuben.
Affectionate, well behaved, very fun and pretty calm for a younger Lab, Reuben is in a word: wonderful!
If you're near Colorado, why not contact Safe Harbor and ask to meet Reuben and all of his friends. Fill out an online application or call 303-464-7777.
If you're somewhere else, check out Petfinder's Shelter Center to find adoptable dogs near you.
Until next time,
Good day, and good dog!
Similar Posts: