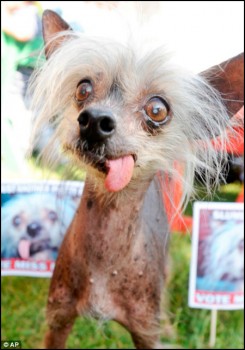 The Associated Press is reporting today that Miss Ellie, the Chinese Crested Hairless who won Animal Planet's 2009 World's Ugliest Dog contest, has died at Pigeon Forge, Tennessee, where she starred in shows at the Comedy Barn. The dog had also appeared on "Dogs 101" on Animal Planet.
In honor of the work Miss Ellie and her human, Dawn Goehring, did in fundraising for the Sevier County (TN) Humane Society, Pigeon Forge Mayor Keith Whaley had previously issued a proclamation declaring November 12th as Miss Ellie Day.
You can leave your condolences on Miss Ellie's Facebook page.
Until next time,
Good day, and good dog
Similar Posts: