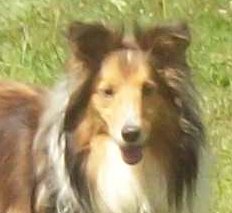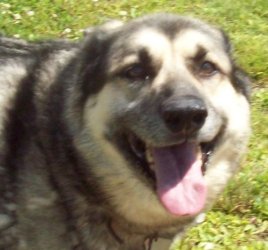 Meet Ellie & Princess!  Today's a two-fer – you'll see why from their story on the Charley's Strays web site.

Ellie is a dainty Shetland Sheepdog estimated to be 6 years old. Ellie came to the shelter with her lifetime companion, a German Shepherd mix named Princess (about 9 years old). These two girls are extremely bonded and have been a beloved part of one family their entire lives. Family illness and tragedy brought these two to Charley's – we would like to see them leave together as well.
Ellie is more reserved when meeting new people. She is shy at first with humans and really looks to Princess to let her know that everything is okay.
She loves to run and explore the grounds at Charley's with her sister, Princess. She prances when she runs – and is a gorgeous little girl – who could use a good grooming!
Princess is an absolute snuggler – she loves to be petted and will lean right up against you to receive some lovin'.
Princess was suffering from a little arthritis in her rear quarters when she arrived – but she was given Adequan shots and put on a diet to help – and now runs like the wind.
These two girls have lost everything that they know and love. Although they are happy at the shelter – they would be much happier in a home together where they can once again live as part of a family.
If you're in Maine, why not give Charley a call at 207-426-9482 and set up an appointment to see Ellie, Princess, and all of their friends.
If you're somewhere else, visit PetFinder's Shelter Center to find adoptable pets near you.
Until next time,
Good day, and good dog!
Similar Posts: