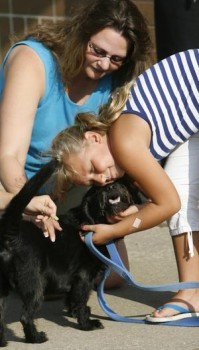 If you read my earlier post about a dog being dragged by a man on a bicycle, you may have wondered what happened to the dog. 
According to a story in today's Canton Repository, the grandparents of the dog recognized the pictures that accompanied the original story, and the dog, named Rascal, has been reunited with his family. 
Apparently, he had been stolen from the family home on Tuesday.  Family members searched, but were unable to find Rascal until his brush with abuse landed him on the front page of the local newspaper. 
The man who was dragging the dog has been charged with animal cruelty.  Score 1 for the good guys!
Until next time,
Good day, and good dog!
Similar Posts: