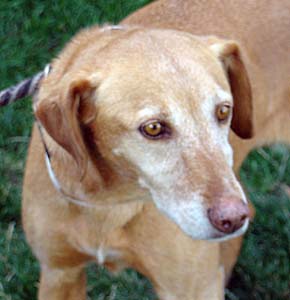 You knew I couldn't resist a Vizsla rescue. I have never understood why someone would give up such a beautiful dog.  Here's the web site for Utah/Idaho Vizsla Rescue where you can see tons of pictures of our featured dog this week.
Anyway, meet Roma! Roma is an approx 7-yr old petite female vizsla/brittany mix, 40-lbs, dew claws off, tail docked and coat slightly longer than a vizsla but shorter than a brittany coat. She was adopted from a local shelter but thought hanging out in the yard all day without her humans was boring and kept escaping and taking herself for walks. She is crate trained, good with other dogs and cats, walks nicely on a leash. She adores meeting kids but, as a stray, we don't know that has ever lived with children. We do know she couldn't get enough of the kids or the agility training during a kids' day camp at IHS where Julie from Helping Idaho Dogs helped the kids learn about dog behavior and training. Roma is looking for a home where she can be inside when you are gone and your snuggle buddy when you are home… and she does want her next home to be forever. She would make an awesome hiking/running partner and her small size makes her a natural for traveling with you. She loves to ride in the car and was a great "motel camper" on a recent road trip to Seattle. We've taken her dining at sidewalk cafes, to pooch pool parties, hiking in the foothills with other dogs and she is one of those never met a stranger kind of dogs. Someone cared enough to teach her sit, down & loose leash walking but didn't claim her at the shelter. (Roma is in Boise ID)
If you're going to be near Boise, why not contact Penny at pfenton3 AT aol DOT com, 208.343.6620 home, or 208.859.5698 cell to find out more about Roma and her friends.
If you're somewhere else, check out PetFinder's Shelter Center to find adoptable dogs near you.
Until next time,
Good day, and good dog!
Similar Posts: