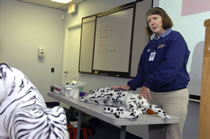 If you're near Connecticut and looking for a Pet CPR class to take, check out the ones sponsored by Adopt-A-Dog in Greenwich.  The classes are co-sponsored by Greenwich Emergency Medical Service and held at their headquarters, 1111 East Putnam Ave.
All classes run 7 – 9 pm and cost $50 per participant.
Dates:
Thursday, October 21
Tuesday, November 16th
Thursday, December 9th.
To register, call 914-273-1674 & pay the registration fee with your credit card.  You can also register via PayPal or by mailing a check to Adopt-a-Dog, Inc. Attn:  Pet CPR, 23 Cox Ave, Armonk, NY 10504.
I took a similar class several years ago and learned a lot.  If you're not near Greenwich, check with your local Red Cross or rescues or breed clubs to see if similar classes are being held in your area.  If they are not currently scheduled, you may want to suggest one or even do some recruiting so you can get enough people signed up to make it worth the  while of a potential sponsor.
Until next time,
Good day, and good dog!
Similar Posts: