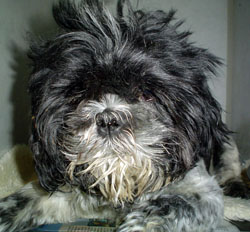 Meet Oscar!  Oscar is currently a resident at Western Plains Animal Rescue in Hays, Kansas.  According to their website:
Oscar is a 2 year old neutered Shih tzu mix who is looking for a good home. He was dumped on our porch here at the refuge and deserves a better life. He is very sweet and enjoys lounging.
Western Plains Animal Rescue is a non-profit, no-kill animal rescue and shelter dedicated to making the world a kinder place for animals and their people.  They currently have a large kennel area for dogs, cats, and other smaller animals, incubators, an isolation room for very sick animals, an aviary rehabilitation pen, pasture land, an outdoor wildlife rehabilitation pen, and a full-service veterinary hospital on site, provided by the Animal Health Center of Hays.
Check out their latest news on Facebook.
If you're in Kansas, why not stop by the shelter to see Oscar and all of his friends.  You can contact the shelter by e-mailing westernplainsanimalrefuge AT live DOT com or by calling (785)621-4222.
If you're somewhere else, stop by PetFinder's Shelter Center to find adoptable dogs near you.
Until next time,
Good day, and good dog!
Similar Posts: