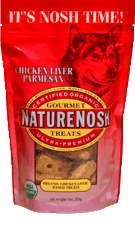 The good folks at NatureNosh sent me several bags of what they describe as their "ultra premium organic gourmet dog treats."  These treats don't have any animal by-products, fillers, hormones, chemical preservatives, pesticides, or herbicides.  They also don't use corn, wheat, egg, or soy in their recipes, and they are certified by the USDA as organic.  The biscuits come in 9 oz bags, available in four flavors:  Beef Wellington, Chicken Liver Parmesan, Thanksgiving's Best, and Pumpkin Pie. 
Now I didn't actually taste them, but they sure did smell good when I opened the bags.  And, did I mention, my dogs absolutely loved them!  I've never had a package of treats go so quickly at my house.  The dogs were begging for them so much, the kids felt they had to keep giving them snacks.  My Beagle is now the size of a blimp.
These deluxe goodies aren't yet available at your average grocery store or big box store.  You can find them at local (non-chain) pet supply stores or buy them online.  A list of retailers is located on the NatureNosh website. 
Your dogs will likely love them as much as mine did, so you'd better buy several bags at a time.
Until next time,
Good day, and good dog!
Similar Posts: