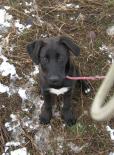 Meet Skip!  Skip is currently living in foster care with McPaws Regional Animal Shelter in McCall, ID.  Here's what their website has to say about this cute little fella.  Breed:  Border Collie / Golden Retriever
Age:  1 year, 9 months
Size:  Medium
Gender:  Male
Neutered:  Yes
Color:  Black
Intake Date:  9/27/11
Adoption Price:  $95
Skip is a cute little puppy looking for a home and family to call his own.  He is too young to have any issues or bad habits.  He's a smart little guy and will learn quickly what he needs to know to be your perfect pet.  Come in and see Skip today.  This pet is eligible for 30 days of pre-paid pet health insurance.
If you're near Idaho, why not contact McPaws and set up an appointment to meet Skip and all of his friends.  Call (208) 634-DOGS or drop a line to [email protected]
If you're somewhere else, check out PetFinder's Shelter Center to find adoptable dogs in your area.
Until next time,
Good day, and good dog!
Similar Posts: