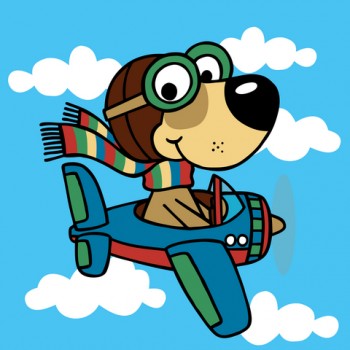 NewsNet5 out of Cleveland recently did a story about injuries dogs are experiencing when flying on major airlines.  From 2009 to 2010, the number of injured pets grew by 90% on US-operated airlines.  Although the 55 animals injured in 2010 is still a small number, it is alarming that the number is growing so quickly.  I apologize that I don't have comparative numbers to see if the total number of animals carried on airlines has also risen, so I don't know if the percentage is better or worse, but I do know that at least 55 pet families were distraught after they arrived at their destinations.  Many of the dogs that are injured or die in flight are those with short noses such as Pugs and Bulldogs.
Delta Airlines, which had the highest number of incidents between 2008 and May, 2011 has this to say:
"Delta takes the lost or harm of any animal very seriously, and their safe transports is our top priority. In an effort to further reduce risk during animal transfer, on Feb. 15, 2011, we changed our policy to no longer accept any American, English or French Bulldogs."
American's response to the NewsNet 5 inquiry was this:
American Airlines sent the following statement:
"Our Traveling With Pets webpage on our website AA.com covers all of this. And we encourage our customers to be familiar with these policies, because we don't want any harm to come to a treasured family member."
Alaska Airlines issued this memo:
"Every pet injury or death during one of our flights is taken seriously and while the number of pet injuries and deaths on Alaska Airlines flights has decreased in the past several years, we continue to be vigilant in safeguarding the pets in our care."
To make sure your pet is safe if you need to put him or her on a flight, be sure to check out your airlines policies before taking off.  Dr. Billy Griswold, an emergency vet, advises that you have your dog examined by a veterinarian before you go, and specifically ask if it is safe for the dog to fly.  He also recommends paying attention to environmental conditions that could harm your dog:  "heat, poor ventilation, cold potentially and trauma associated with efforts to escape shifting of baggage."
Sedatives are not recommended because they depress the respiratory and cardiovascular systems, and may cause your dog to have trouble maintaining his or her balance.
My advice?  Drive when you can, or leave your dog at home if at all possible.
Until next time,
Good day, and good dog!
Similar Posts: