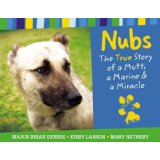 Helena Sung shares the story of Nubs the dog on PawNation.  Major Brian Dennis, USMC, befriended a dog while stationed in Iraq.  In itself, that's not all that unusual, but wait until you hear the rest of the story.
Nubs, so named because someone had cut off most of his ears, was waiting for Major Dennis every time his unit returned to the border fort where the pack of wild dogs lived.  One day, they found that Nubs had been stabbed by a screwdriver and was slowly being overtaken by infection.
The Marines provided medical care, and the dog followed them back to their base, 70 miles away.  But that was only the first leg of his journey.  He later was airlifted to the United States and reunited with Major Dennis at the end of his deployment.
Read the whole story on PawNation.  If you have young readers, learn about the picture book  or buy it from Amazon.
Until next time,
Good day, and good dog!
Similar Posts: