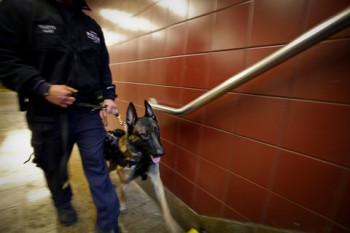 Police dogs in New York now have a new gadget in their crime-fighting arsenal: Infrared cameras.
A camera is strapped to the dog's back with real-time images transmitted to the handler's wrist-mounted display, allowing the officer to see into dark spaces he wouldn't be able to get into himself.
A recent training mission had two-year-old Apache, a German Shepherd, tracking a "suspect" (actually a human officer) in the underground subway system.  Apache and his fellow trainees are the first group of NYPD dogs to get infrared cameras, which are the same kind the Navy Seals used in the raid on Osama Bin Laden's compound last year.
Other new high-tech equipment includes a canine GPS tracking system to help follow dogs on a scent trail, dog collars that emit light, and two custom-built mobile air-conditioned kennel trucks with food storage and rest areas so K9 officers can take a break, have a meal, or escape the summer heat.  The trucks can store up to a month of food so they could be used in disaster zones if needed.
Similar Posts: