Blackie the Doberman, canine star of Martin Scorsese-directed movie Hugo, is expected to get a nomination at this year's Golden Collar Awards thanks to the director's campaigning efforts.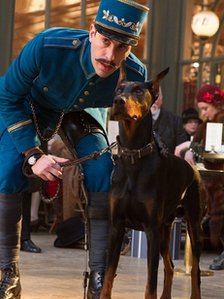 Blackie was initially snubbed from the nominations, but Scorsese wrote a letter to the LA Times encouraging people to contact the award show's organizers to request Blackie be added to the nomination list. Scorsese felt that Blackie should have been nominated in the "best dog in a theatrical film" category.
Blackie starred in the Oscar-nominated film Hugo as an attack dog owned by a train station officer. Scorsese suggested that Blackie didn't originally secure a nomination due to the role she played, pointing out that a cute little Jack Russell Terrier received nominations for two films because the Jack Russell "plays a nice little mascot who does tricks and saves his master's life in one of the films, while Blackie gives an uncompromising performance as a ferocious guard dog who terrorizes children."
Dog Daily News, the Golden Collar Awards organizer, agreed to add Blackie to the nomination list if it received 500 write-in nominations via their Facebook page.
Similar Posts: