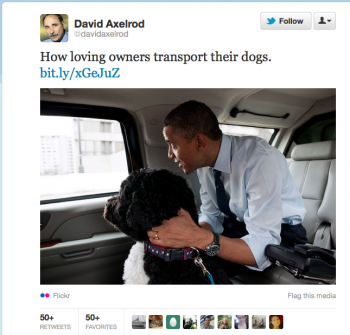 Senior Obama strategist David Axelrod took aim at Mitt Romney over the incident where Romney strapped his dog to the car roof on 12-hour drive.
Axelrod tweeted a photo of Obama riding with Bo in the back of his armored limousine with the caption "How loving owners transport their dogs."  Clearly this was meant as a dig at Romney, and probably a well-deserved one considering the act of cruelty where Romney somehow thought it was a good idea to strap his dog's kennel, with the dog inside, to the roof of his car for an entire 12-hour drive.
The tweet's timing coincided with the launch of a Facebook page called 'Pet Lovers for Obama' – where pet owners are encouraged to upload photos of their pets wearing Obama 2012 gear. 
You can see the original Axelrod tweet here.
Similar Posts: