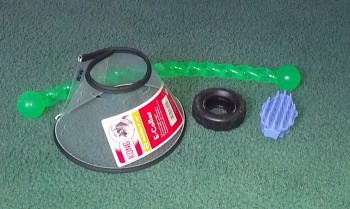 The good folks at the Kong company were nice enough to send me some samples of some of their new products. Here's what my official test dogs thought.

The first item was an E-collar — one of those cones you put around your dog's neck to keep him or her from chewing out their stitches. fortunately, we didn't have a need for one of those right now, so we're donating it to our vet to give to someone who needed but couldn't afford one.
Next up: the Kong SafeStix, in neon green, no less! Kong promotes it as "perfect throw and fetch toy, bendable and flexible, floats" At first, my dogs weren't too interested in this one, but Kayla has really taken a shine to it! She likes to pick it up and shake it, growling ferociously the whole time. And if someone is willing to tug on the other end of it, she's in heaven. The SafeStix is mad of heavy-duty rubber and appears to be relatively indestructible. According to my son, the tugger-in-chief, the slime factor is pretty high with this toy. There is nothing to absorb any of the saliva or other goo your dog may produce while playing.
The third thing they sent was a small rubberized brush called the Kong ZoomGroom. The package says it's "great for shampooing and dry skin", and that it "gently cleans with smooth, massaging teeth." It's very ergonomic and comfortable to hold. It did a great job pulling out loose fur from Kayla's thick undercoat. It's also marketed as a bathing aid. You can put shampoo on the brush and use it to work up a lather on your dog's coat. I didn't try this out, but I have no doubt it works. My only complaint with the tool is that it doesn't collect the fur after it pulls it loose from the dog. It just left all that loose fur lying on Kayla's rump.
Saving the best for last: the tire-shaped treat dispenser called the Kong Traxx is available in two sizes. Again, this one is made out of virtually indestructible rubber, and the tire is made just like the real tires on your car – that is, the inner edge is open where it would attach to a rim. You can stuff small bits of kibble or treats into the space, where an innertube would go.
Cooper loved it! (As you can see from the video below.) It took him nearly 30 minutes non-stop to get all the food out. This would be a great toy to entertain a dog who is easily bored, or it could be used to slow down a dog who tends to eat too fast.
Great thanks to the Kong company from me and my dogs for allowing us to play with their new products!
Until next time,
Good day, and good dog!

Similar Posts: