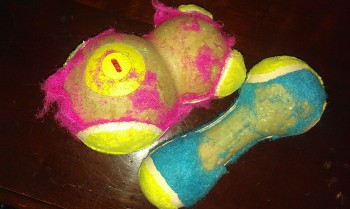 Have you ever regretted giving your dog a squeaky toy because the fun just keeps on going well past your bed time or while you're on the phone? KONG toys has now come up with a solution! The first squeaky toy that has an on-off switch.

They sent me a couple of the toys to try out, and I have to say I was impressed with the invention! With four dogs, you never know who's going to be playing with the toys at any given moment.
Like all KONG toys, the rubber casing is pretty indestructible under normal use conditions. I know, at least one of you is going to write to me and tell me how your dog chews up KONGs just like any other toy, but I've had really good luck with them.
Less impressive, however, was the fabric cover that overlays the rubber. My dogs had that chewed up the first evening out of the box (as you can see from the picture.)
Even with the cloth ripped up, though, the dogs still enjoy playing with them non-stop, so the on-off switch is still a good thing. And unlike with most squeaky toys, my dogs have yet to remove the squeaker, try though they might.
Here' what the toys looked when they were new:
And here's the official press release, along with a link to learn more:

KONG Delivers First-Ever Squeaking Toy That Can Be Turned Off
There's nothing quite like the bond between dogs and their human parents, especially during a game of fetch with a toy. However, pet lovers sometimes need quiet time, even when their dog is not ready for a break
KONG continues to innovate with a first-of-its-kind product to address this dilemma; the new OFF/ON Squeaker dog toy. This toy is unique because it contains a switch that turns off the squeaker inside the toy, answering both pet parents' occasional need for calm and dogs' need for invigorating, active play.
Dogs of all sizes and breeds will love the OFF/ON Squeaker toy. It combines a non-abrasive tennis material that's safe for a dog's teeth and gums, with a squeaker on the inside to stimulate a dog's instincts.
Pet parents will appreciate the toy's switch, which silences the squeaking noise. Even with the squeaker turned off, dogs will still enjoy playtime.
With or without the noise, the OFF/ON Squeaker is ideal for games of fetch in or outside the house, providing for plenty of playtime.
The OFF/ON Squeaker comes in five different shapes with MSRPs from $9.99 to $14.99, based on the sizes. The shapes include a bone in small, medium and large sizes as well as a bear, dog, rattle and whale in medium and large sizes.
"Our philosophy is 'Dogs Need to Play.' In line with this, we are committed to continually developing new toys that offer pets stimulating activity and enjoyment," said KONG President KD Frueh.
"The OFF/ON Squeaker is a real innovation in dog toys. Not only does it entertain dogs with options for squeaking or games of fetch, but it takes into consideration dog owners' occasional need for quiet playtime."
For more information, visit KONG.
About KONG Company
KONG Company is the premier global provider of interactive toys and other products for dogs and cats. The company's namesake Classic KONG is widely regarded as the "World's Best Dog Toy" and is recommended by vets, trainers and behaviorists more than any other toy. With a persistent commitment to innovation, the company continues to regularly introduce unique, high-quality dog and cat products. KONG also makes it a top priority to give back to the pet community. KONG was founded in 1976 and is based in Golden, Colorado. For more information, find us on Facebook.
Until next time,
Good day, and good dog!

Similar Posts: