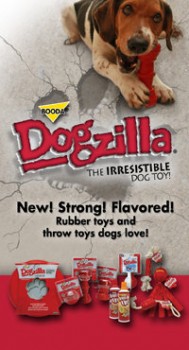 I was privileged to receive a box of Dogzilla toys a week or so before Christmas for my dogs to try out. I have waited to blog about them because I wanted to see how they would hold up, and I am happy to report they have done well.
These toys are similar to the Kong toys in that they are just about impossible to destroy and you can hide treats inside to give your dog some mental stimulation while he or she is playing. Dogzilla has some innovative designs such as a toy that you can fill with water and place in the freezer for those dogs with an ice cube fetish.
Here is what the company claims:
Petmate's Dogzilla toy line is the biggest thing to ever happen to a dog's toy box! Not only do these boredom-busting toys offer an ultimate way for a pooch to release energy, exercise and stay mentally stimulated, they are perfect for heavy chewers as well as parent-pet interaction. The Dogzilla toy line is ideal for a pooch of any age, size or breed – whether they are an ice cube fanatic, prefer tug-of-war, love to fetch or problem solve, or simply enjoys a toy they can "attack."
I have to say that I found their claims to be quite truthful.  My dogs range in size from 25 to 65 pounds and in age from 2 to 9, and all enjoy the toys they are sampling.
For more information, check out their Facebook page.  The page includes the company line, as well as both positive and negative comments from people who have purchased from them.
These toys are available at many pet retailers, as well as over the Internet.
If you try them out, let us know what you think!
Until next time,
Good day, and good dog!
Similar Posts: