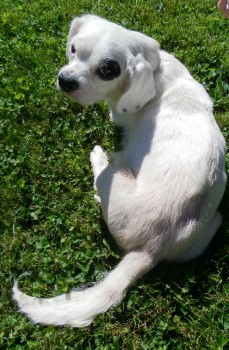 Meet Daisy! I'm thinking she may not be as sweet as she appears! I'd love to get a look at the other guy! Just kidding. This little tough girl is being fostered by Delaware Puppy Rescue in Hockessin, Delaware. Here's what their website has to say about her.

Daisy is a rescue Mom who has really earned a place in our hearts. She has been with us since the birth of her 6 pups. She's very sweet and quiet but needs to perfect her housebreaking skills and learn to walk on a leash. She's been too busy being a Mom to work on these tasks.
She will be spayed shortly, has been checked for heartworm and intestinal parasites and is up to date on all vaccinations and preventative medicines. She arrived with lots of fleas which caused not only itching, but sore skin. She's healing, but may need continued treatment for her allergy.
She deserves a loving family like yours!
If you are interested in meeting Daisy, please submit an adoption application.
Adoption Donation: $75.00 plus refundable $50.00 altering deposit.
The site also notes that Daisy is good with both cats and other dogs.
If you don't happen to be near Delaware, check out PetFinder's Shelter Center for adoptable dogs near you.
Until next time,
Good day, and good dog!

Similar Posts: