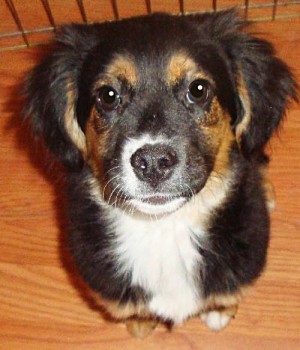 Prepare to be dazzled by Dazzle, a current resident of the Lost and Found Dog Rescue in New Castle, Delaware.  Dazzle is a spayed baby female Cavalier King Charles Spaniel Mix.  According to Lost and Found Dog Rescue, Dazzle has become a real beauty. She is, as you can see in her new picture, always smiling. She is so pretty, fun loving, sweet and submissive BUT she is afraid of "some people" since she came to us abused. I know it's hard to believe that puppies could already been abused but it's true. Once she knows you are there to love her she is a loving little creature but she must be adopted into a family that has had prior experience with abused dogs and now how to gain the trust of dogs. They do come around, but they need a quiet and loving atmosphere. NO CHILDREN under 12 years old.
When she trusts you, which is easy with just getting down on the floor and inviting her over  – and you talk to her she rolls over to give you her belly. She has a soft and gentle spirit and loves to play and play and play. She is housebroken and crated train. She has already been spayed, up-to-date with shots, microchipped.
Dazzle has her very own web page where you can learn more.
I liked the quote on Lost and Found's "About Us" page:  We find beauty in the most incomprehensible places and the otherwise homely faces.  It is our gift to see beyond the dirt, terror, sadness and defeat, and find the true soul that lies within.
If you're in Delaware, why not contact Lost and Found Dog Rescue at (302) 613-0394 to arrange a time for a visit with Dazzle and all of her friends.  If you're somewhere else, check out adoptable dogs near you at the PetFinder Shelter Center.

Until next time,
Good day, and good dog!
Similar Posts: