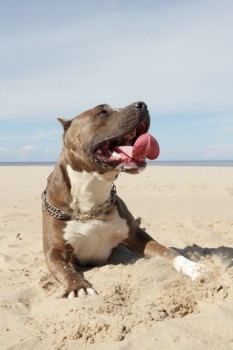 What do you do when a hurricane displaces you from your home and you can't take your dog to the hotel or shelter where your family is staying? One option is to drop your dog off at an emergency shelter, such as that operated by the ASPCA in Brooklyn. Nearly 300 animals were taken to the emergency shelter immediately following the storm. The problem is, only about half of these animals got picked up after the storm was over.

Reuters is reporting that 52 cats and 84 dogs remain at the emergency shelter, which was slated to close in December. The emergency shelter was never intended to be a permanent solution, only a stop-gap measure. Funding is not available to keep the shelter open indefinitely, but they did extend the deadline into January because of the large number of animals left to be cared for.
After Hurricane Katrina, the same thing happened, but some families didn't land on their feet until months after the storm. Animals who had been placed in adoptive homes after the emergency shelter closed were hard to track down when their first families came back for them.
Most of the unclaimed dogs hail from the Rockaways neighborhood in Queens, one of the areas hardest hit. Many have a reputation of being vicious (based only on their breed), and may be hard to place. The shelter has not ruled out the possibility of having the euthanize them.
So, if your dog or cat is staying at the temporary emergency shelter in Brooklyn, it would be good if you could find other arrangements for your animal, or at least let the shelter know your intentions.
Until next time,
Good day, and good dog!
Similar Posts: