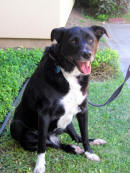 Once again, this came from Facebook, so I can't attribute it to the proper author because one wasn't cited. If it's yours, please comment to claim it – the sentiment is beautiful!

I went out to rescue a dog that day
To give him a really good life
To take him away from the life that he led
And free him from trouble and strife
I thought I would do him a favor
And be a good person to him
And go do my bit for the country
I didn't go out on a whim
But what do you think really did happen?
The day that I did my good deed,
I discovered a love that I'd dreamed of
And fulfilled in myself a strong need.
I now have a dog that I care for
I see things that I needed to see.
That lovely dog that I rescued
Really ended up rescuing me.
Until next time,
Good day, and good dog!
Similar Posts: