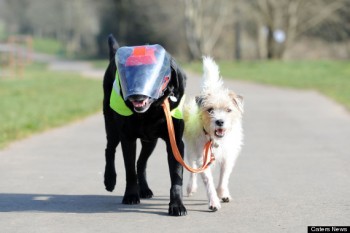 Milo, the cute little terrier in this picture, has been best friends with Eddie, the Labrador, since both began living with Angie Baker-Stedham in Cardiff, England. When Eddie began to lose his sight last year, Milo stepped right up to provide assistance without any training at all.

Milo wears bells on his collar so Eddie can follow him, and leads him back to Angie when play time is over.
Isn't it sweet how Milo takes care of him?
You can see more pictures and read the whole story on Huffington Post.
Thanks to friend of the blog Robert Worrall for sending this story tip to me!
Until next time,
Good day, and good dog!
Similar Posts: