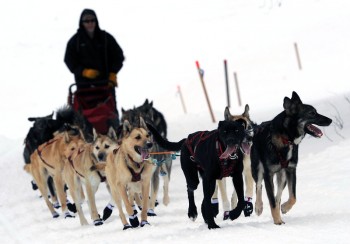 Congratulations to Mitch Seavey, who mushed into Nome last night at 10:39, followed about 30 minutes later by Aliy Zirkle. The 2013 Iditarod is now in the history books.

Seavey, age 53, is the oldest champion in the history of the race. His son, Dallas, was the youngest when he won last year's race at age 25. Seavey bookends!
The elder Seavey has started the grandaddy of all sled races 20 times, finishing 19 of the attempts. His first win was in 2004, and he is now a two-time champion.
He gives a lot of credit to his lead dog, Tanner, a 6-year old orange-brown husky. "He's probably the best I've ever had," said Seavey after the race. "Tanner is happy to be a sled dog and he makes it look easy."
Seavey wins over $50,000 and a new pickup truck. No word on what Tanner will get.
Second place finisher Aliy Zirkle has finished the race 12 times, and her race time last year was the fastest ever for a woman. (This year's time was a close second.) Nine of her ten dogs helped her husband, Allen Moore, win the Yukon Quest last month. "My dog team is my heart," Zirkle says. "They're my family and they're fantastic."
The Denver Post has a nice photo gallery from the race.
Until next time,
Good day, and good dog!
Similar Posts: