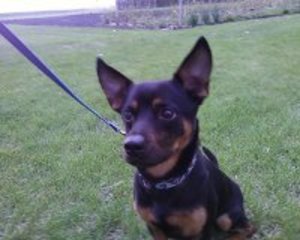 Meet Rhett! This cutie is living in Jamestown, North Dakota courtesy of Prairie Paws Rescue. Here's what they have to say about this handsome Min Pin mix.

Rhett is a male MinPin mix that came to our rescue as a stray. He was found abandoned in a field in a near by rural area. His companion Scarlet was caught first and it took the rescuer several days to catch him. Rhett did suffer some frostbite on his feet pads due to the extreme cold and being hard to catch. He is in a foster home now in hopes of finding a family to adopt him and appreciate him unlike his last family who dumped him. He is being worked with on crate and house training, socializing and basic skills at the foster home. All his medical work is completed including neutering, shots, worming , flea treatment, bordetella and a complete vet exam. No word on whether or not he gives a damn.
If you're going to be near North Dakota (and really, who doesn't go there for summer vacation?) why not contact Prairie Paws Rescue for more information on Rhett and all of his friends. Send an e-mail to [email protected] or fill out an online application.

If you're somewhere else, check out PetFinder's Shelter Center to find adoptable dogs near you.
Until next time,
Good day, and good dog!
Similar Posts: