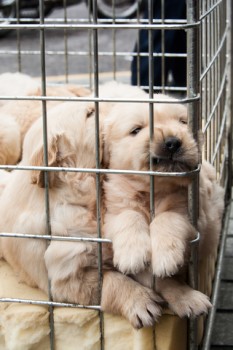 The ASPCA's blog is reporting that the city of San Diego has banned the sale of dogs in pet stores. As you no doubt know, many pet stores purchase their puppies from puppy mills. As a result, these puppies are often in ill health and have been kept in unsafe, unsanitary, and unGodly conditions before being delivered to the store.

San Diego joins 32 other North American cities in imposing this ban, which becomes effective in early August.
The ban does not include the adoption of humanely-sourced dogs from shelters and rescue organizations, which are still allowed to be presented for adoption in retail stores.
Way to go, San Diego!
If you'd like to see your town pass a similar ban, learn how to get started by visiting No Pet Store Puppies.
Until next time,
Good day, and good dog!
Similar Posts: