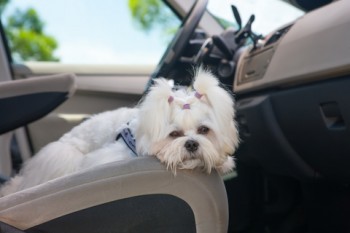 Although not yet passed by the NC Senate, a law working its way through state government would make North Carolina the 15th state to have a law regarding animals left alone in vehicles. The other 14 states on the list (AZ, CA, IL, ME, MD, MN, NV, NH, NJ, NY, ND, SD, VT, and WV) specifically outlaw the practice of leaving an animal unattended in a parked vehicle. However, only some states allow rescuers to get the animal out, while others make no provision for rescue.

North Carolina's proposed law would allow law enforcement officers, firefighters, animal control officers and other rescue workers to break into cars using "reasonable means," when they suspect an animal is at risk of dying due to heat, cold, inadequate ventilation or other circumstances.
The law was proposed in the wake of the case of Worthy, an assistance dog in training, who was left in a car by a program director of Eyes, Ears, Nose, Paws. The dog subsequently died of heat-related illness.
Check the progress of House Bill 612 as it works its way through the legislature.
Until next time,
Good day, and good dog!
Similar Posts: