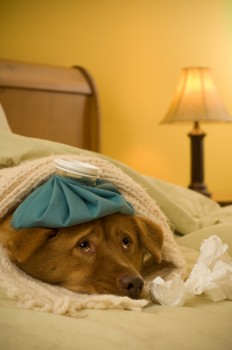 UPDATE: The Plain Dealer is reporting that Ohio officials have confirmed a case of circovirus in a dog in the Akron area, and are testing more samples taken from other dogs who have fallen ill and may have had the virus. Eight dogs have shown similar, severe symptoms over the past few weeks and four have died.
I don't know if this has spread anywhere else, but there is apparently a very bad and mysterious illness killing dogs in Ohio. It started at a doggie daycare in Norwood (near Cincinnati) Ohio, and now there is some indication it may be spreading into the Akron-Canton area, where I live.

According to a story on the Akron Beacon Journal's website, three of the Cincinnati dogs died, while dozens more were made seriously ill.
Symptoms include bloody diarrhea, vomiting, trouble breathing, low blood pressure and a rapid heartbeat. The dogs may then develop neurological symptoms of tremors and shaking, which may continue for weeks after treatment of the acute disease. The illness comes on suddenly and can be fatal within as little as 48 hours.
"They are profoundly [physically] depressed, weak and lethargic. They couldn't lift their heads to look at you, and they couldn't care less where they were," said Dr. Melanie Butera, who has treated at least one of the Canton dogs.
The Ohio Department of Agriculture is investigating to find a cause, but so far vets are unsure if it is bacterial, viral, or toxin-related.
Keep your eyes open! "The thing we are really encouraging, if folks are concerned at all, is to keep an eye on your dog. If you see any kind of a sign of diarrhea or vomiting, get it to your vet immediately so they can start supportive therapies," says Erica Hawkins, communications director for the Ohio Department of Agriculture.
PLEASE let us know if you hear of an outbreak in your area, or if you hear more about what might be causing it.
Updates are being posted here as they come in from the state vet's office.
Until next time,
Good day, and good dog!
Similar Posts: