Bella was apparently outside her South Africa home alone when her neighbors got robbed. But when the same criminals tried to break into Bella's house, she attacked them in the garden, and was stabbed in the head for her efforts. I'm putting the picture "below the fold" because you need to know it's pretty horrifying. You may want to finish your breakfast before you scroll down.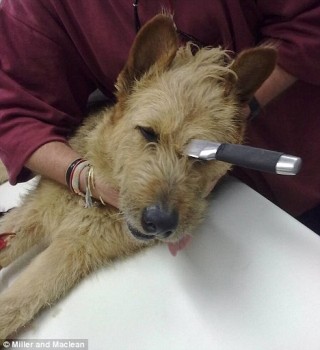 The article in the Daily Mail identifies Bella as a German Shepherd, but I beg to differ. Whatever her breed, this is one brave dog!
The 8-inch dive knife missed Bella's brain by mere fractions of a centimeter and was successfully removed by the vet. She is expected to make a full recovery.
Her guardian, Vernon Swart, has this to say: "I've told the police that if they find the guys who did this we'd like to leave them alone in a room for a few minutes with Bella, and she'd quickly get her revenge."
A big wag of the doggies.com tail to Bella, for preventing the robbery in spite of her wound.
Until next time,
Good day, and good dog!
Similar Posts: