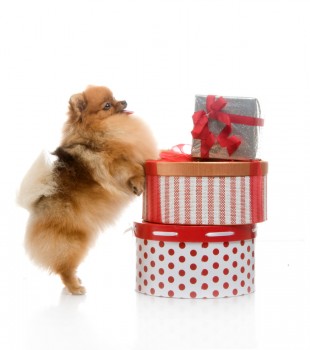 Don't forget your best friend this holiday season. Even those with four legs deserve a special gift under the tree. Nonprofit PetSmart Charities is teaming up with do-it-yourself expert Brit Morin to showcase easy and fun projects to celebrate your adopted pet this holiday season. From lounging on DIY pet pillows to indulging in homemade holiday treats, your pet will feel the love as he or she relaxes in the happy place you helped create.

"I'm excited to team up with PetSmart Charities to teach pet parents creative projects to do for their pets this holiday season," said Brit Morin, founder of Brit + Co. "Having pets myself, I love giving ideas on how to show adopted pets how special they are in simple and affordable ways."
5 Holiday DIY Ideas for Pet Lovers
Brit Morin shares her top five DIY projects for your adopted pets this holiday. Check out the full projects.
1. DIY Pet Pillows: Turn Fido's photo into a decorative pillow for your home – all you need is iron-on transfer paper, fabric and a sewing machine. If you're not up for the sewing task, you can iron the photo onto an existing pillow or pillowcase to spruce up his bed or crate.
2. Paw Print Stamps: You can turn your pet's paw print into art by stamping his or her print on a poster or wrapping paper. Turn a plain pattern into a masterpiece sure to please any pet lover on your holiday gift list.
3. DIY Photo Ornaments: Make your pet the star of your tree this holiday. Start with a clear ornament and print out a cardstock photo of your pet to include inside. Adorn with confetti for a festive touch!
4. Homemade Holiday Treats: Every dog deserves a yummy treat, so why not bake some with love? These Peanut Butter Pumpkin Dog Treats are not only delicious – they make a great stocking stuffer.
5. Etched Glass Treat Jars: Make a personalized gift your dog will love by etching his or her name onto a clear treat jar full of his favorite goodies.
Feeling inspired by Brit's tips? We want to see how you're making your adopted pet's house a home for the holidays. Share your photos with PetSmart Charities on Instagram using the hashtag #petshappyhome. One submission, chosen by Brit, will be featured on her website, Brit + Co.
"Adopted pets bring so much joy to our lives, and we want to thank everybody who has opened their hearts this year to give a cat or dog a forever home," said Jan Wilkins, executive director, PetSmart Charities, Inc. "We're excited to have Brit help us spread the message that adopted pets deserve to be celebrated every day."
Until next time,
Good day, and good dog!
Similar Posts: