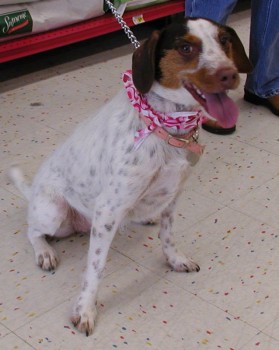 Meet Maggie! This cutie is identified as possibly being a Beagle / Jack Russell mix, about 8 years old. She is living outside of Atlanta with Forgotten Paws. Here's what their website has to say about Maggie.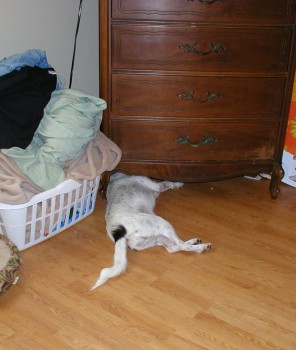 Not a day goes by that Maggie doesn't bring a smile to my face. She is so sweet and goofy. She is one of the smartest dogs I have ever met as well. Maggie enjoys going for walks or I take her to the quiet dog park where she can run and sniff. She certainly has a nose on her. Once we had a "visitor" under the house and we knew it because Maggie kept staring at the air vents! She is a very sensitive girl and if you raise your voice, she will tuck her tail and go to her bed, then come bouncing out minutes later like nothing happened. She can be shy with strangers and needs time to warm up. Once she warms up though, I hope they are dog people b/c she will follow them around smiling. In the photo above, she had lost her ball under that dresser and while trying to get it, she just got tired and decided to take a nap! LOL She is great with all dogs and is very submissive. She ignores the cat. I need to find her a new foster or permanent home though b/c my larger dogs want to pick on her and Maggie no longer plays b/c she is looking over her shoulder.
If you're going to be near Georgia, why not contact Forgotten Paws and ask to meet Maggie and all of her friends. Send an e-mail to [email protected] or fill out their online adoption application.
If you're somewhere else, check out PetFinder's Shelter Center to locate adoptable dogs near you.
Until next time,
Good day, and good dog!
Similar Posts: