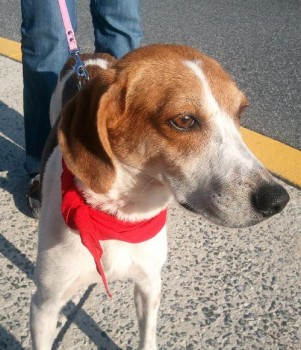 Meet Eve!  Eve is currently living in foster care with Paws of Tomorrow in Ocean View, Deleware.  Here's what their website has to say about this new mama.
This is Eve, one if the gentlest and sweetest tempered dogs you could ever hope to meet. She would like a lot of room to play, and would love other dogs or children to play with. She is great with other dogs, cats, and children of all ages and will play as long as you let her. Eve is still shy with strangers and men, but warms up quickly when she realizes that no one is going to hurt her. This beautiful, affectionate lady just needs a forever home where she can feel safe and loved. Won't you consider having Eve join your family?
Here's a picture of Eve with her puppies.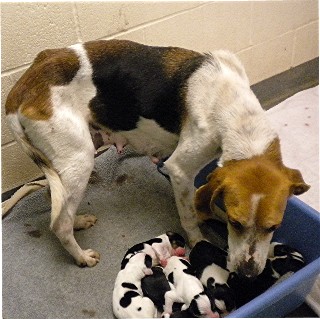 If you're going to be near Delaware, why not make an appointment to meet Eve and all of her friends.  Call (302) 604-4701 or send an e-mail to [email protected]
If you're somewhere else, check out PetFinder's Shelter Center to find adoptable dogs in your area.
Until next time,
Good day, and good dog!
Similar Posts: