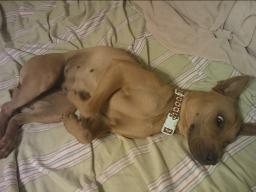 How could I not feature Scooby?  She's in a foster home for Underdog Rescue of Arizona in Chandler. Here's what their website has to say about this cutie-pie.
SCOOBY is a female, 10 mos. old mix. She was found at a bbq in Mesa at a park.  People were throwing stuff at her and kicking her away from the food,; She was starved and just trying to find her next meal! This being said, she is a little nuts about food. She is not aggressive, but she will clear her plate in mach speed and if another dog walks away from their plate….it is fair game to Scoob.
She constantly wants to play, either with stuffed animals (that are hers) or bones. She loves to play fetch, play in our kiddie pool, go for walks, (have to use a harness though otherwise she will walk you….and while it is hilarious, it gets frustrating if you're walking other dogs)
She can't jump walls and is not an escape artist, however she recently figured out that she can hop our extra tall baby gate in the house. She only does this if she wants to be on the side of the house we are on. She loves to snuggle, and is always in a great mood, just full of energy and so innocent.
At first she was very shy, and around new people she still is. It takes her a little bit to warm up, but after that it is well worth it. She is so appreciative of everything you do for her or give to her, she is one of those dogs that knows she is lucky and got her second chance…. I don't know if you have kids, I don't think she would be the best around younger children… We had a three year old living with us, he was a royal terror and she would snip at him…..not hard enough to leave a mark or to make the child cry…but I still wouldn't recommend her for a family with young children.
If you're going to be near Arizona, why not contact Underdog Rescue to set up an appointment to meet Scooby?  Call 480-203-8538 or send an e-mail to [email protected] Or you can download an application.
If you're somewhere else, check out Petfinder's Shelter Center to find adoptable dogs near you.
Until next time,
Good day, and good dog!
Similar Posts: