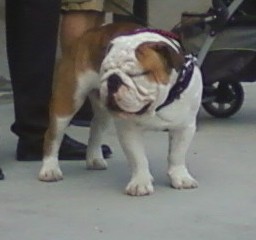 This is Stewey the bulldog, who I met today.  I took his picture to put a dog-related spin on something I wanted to blog about that has absolutely nothing to do with dogs.  You see, this morning I stood on my local high school's steps along with many of my neighbors to honor a fallen hero.
Sgt. Daniel Patron was killed while defusing a roadside bomb in Afghanistan last week and was laid to rest this morning.  I was so proud of my community, Perry Township.  Several years ago, the community collected money and built a beautiful bronze statue to memorialize all of the fallen warriors who graduated from Perry.  At the time, there were ten pictures at the bottom of the statue.  Now there will be another.  The sad part is that the ten photos filled one side of the base.  I can't bear to think of all four sides being filled.
I didn't know Dan, but I have several friends who did, and this has hit just a wee bit close to home.  Thank you for indulging me while I wrote about something that meant a great deal to me, but didn't necessarily relate to dogs.  Except for dear Stewey.  You can't see it in the picture, but even he had a bandanna that looks like an American flag.  In Perry, everyone honors a war hero.
For more photos, click here.
Until next time,
Good day, and good dog!
Similar Posts: