I consulted several different sources to compile my list this year – trying to make this into a science, but it is, of course, an art. I started with the odds compiled by Wynn Las Vegas, although that ended up being the least important factor I considered. Then I looked at which breeds had won Westminster most often, also pretty much of a dead end for me.
Next, I looked at the number of dogs entered in each breed and group, and how many times each had won. To some extent, this is a reflection of the popularity of each breed, but to me, although this hasn't proven true historically, a breed that has many entries will have a better chance of producing a truly best example of the breed standard. If the judge has more specimens to choose from, he or she will be better able to find a more exemplary dog.
I used these figures to choose my breed for each group, then looked at the list of invitees for each group. The invitees are the five top-ranked dogs in each breed, who are automatically invited to Westminster each year. The rest of the entries are those sent in to ask for a slot, but the top five are actually invited to the show.
From there, I have to admit, I just looked at the names. I picked the dog whose name I liked best. Like I said, it's an art.
Enough already, right? Here's my list: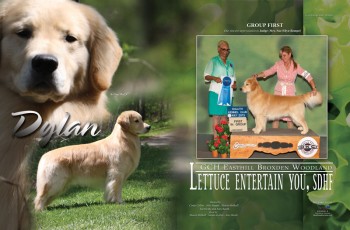 Sporting Group: There are 560 dogs entered, and the group has won Best in Show 19 times. My pick? The Golden Retriever, which boasts 58 entries, but has never won Best in Show. The Golden has won Best in Group twice and was named group second 11 times. Las Vegas odds for the Golden Retriever winning it all are 150:1. The specific dog I chose is GCH Easthill Broxden Woodland Lettuce Entertain You. "Dylan" is owned by Cindy Collins, Julie Supple, Joe Ovalle, Amy Booth and Sharon Shilkoff. Photo from the breeder, Blue Rose Kennels.
Hound Group: There are 408 dogs entered, and the group has won Best in Show 5 times. I chose the Rhodesian Ridgeback: 46 entries, never won Best in Show, Best in Group once, second in group once. Vegas odds are 350:1. From Camelot Rhodesian Ridgebacks, which has two dogs in the top five, I chose GCH Camelot Red Hot Tamale. "Molly" is owned by Clayton Heathcock and Cheri Hadley, and I had to show her 7-week old puppy picture from the breeder, Camelot Rhodesian Ridgebacks) because it was just too cute!
Working Group: There are 425 dogs entered, and the group has won Best in Show 15 times. I chose the Boxer, with 20 entries this year. The breed has won Best in Show four times, Best in Group 23 times, and group second 11 times. Vegas odds put the Boxer at 38:1. I chose GCH Winfall I Dream of Style. "Macey" is co-owned by Cheryl & Keith Robbins, George & Barbara Adkins, Tina Porter, Lee Stanton, and Jorge Pinzon. Photo from Rhonda Cassidy on the breeders' site, Winfall Boxers.
Terrier Group: With a total of 319 entries, the Terrier Group has won Westminster 45 times more than any other group. The Wire Fox Terrier holds the record for the most Best in Show wins with 13, and has 13 dogs entered this year. With all of those 13s, could I possibly choose another breed? Vegas has this breed at 10:1, the best of the breeds I selected. The Wire Fox has won Best in Group 21 times and group second 15 times. My choice from the top five is GCH Afterall Painting The Sky. "Sky" is owned by Victor Malzoni, Jr. & Torie Steele with co-owners Diane Ryan, Mary & Scott Olund. Photo from the breeder, Afterall Wire Fox Terriers.
Toy Group: The Toy Group has 417 entries this year and has won it all ten times. My choice for the winning breed in this group is the Pekingese, because, well, who can forget Malachy? There are 13 Pekes entered this year, and the breed has won Best in Show four times, Best in Group 25 times, and group second 16 times. Vegas odds are 50:1. GCH Oakhill Caught Red Handed, aka "Cooper" is owned by Oakhill Pekingese and Cody Koch. Photo from the breeder, Oakhill Pekingese.
Non-Sporting Group: The Non-Sporting Group has 307 dogs entered and has won Westminster a total of 307 times. In honor of its rise to number 11 in the AKC breed popularity rankings this year, I chose the French Bulldog, which has 52 entries and odds of 300:1. The breed has never won Best in Show, but has won the group one time and earned group second five times. So many good names in this group, I have to give honorable mention to GCH Evergreen's Girls in White Dresses, GCH Lefox Born to Boogie, and GCH Lebull's El Morocco at Lecirque, but I had to go with GCH Coco Vialatte Robohull Hot Flash (probably because I'm over 50 now!) "Sena" is owned by Kazumi Yamanaka. Photo from the breeder, Coco Vialatte.
Herding Group: This group has 318 entries and has won Best in Show four times. I chose the Australian Shepherd to win, because one of my favorite dog friends is Sloopy, an Aussie who now lives in Colorado and I don't get to see her very often. There are 44 Aussies entered this year, and the odds of one winning are 300:1. The Australian Shepherd has never won Best in Show, but has taken the group once and placed second in group twice. GCH Copperridge What's Your Dream is my pick from this group. (Anyone else remember the guy from the beginning and end of Pretty Woman who is always saying, "This is Hollywood. What's your dream?") "Vivian" (the Julia Roberts character) is owned by Jasmine Hanigan, Stephen Blanco, Sheree Miller & Jeff Margeson. She also competes in agility. Photo from the breeder, Copperridge Australian Shepherds.com.
Best in Show The Las Vegas odds have a Dobie winning Best in Show (odds are 7:1), and I started this article with every intention of choosing the Golden or the Boxer to win it all, but after writing about Vivian, I have to say she's my favorite. (Pretty Woman was my first date with my spouse, and I watch it just about every time it's on TV.)
We'll find out next week if sentimental counts for anything.
Until next time,
Good day, and good dog!
Similar Posts: