Today's Saturday Survey is in a little different format. Please go to BiteCharge and take the quiz. Then come back here and tell us your breed!
Here's how mine came out: Great Dane
You're genuinely humble and that makes you stand out in a crowded room. Everyone looks up to you and you're extremely smart, but you're still approachable due to your warm demeanor. Your elegance and class can sometimes make others feel humbled, but it's never intentional. You're the Great Dane, the kind ruler of your own kingdom.
Until next time,
Good day, and good dog!
Usually, we feature the first ten of something, but I thought it might be fun to look at the other end of the list today. Here are the 10 breeds that were registered in the LOWEST number with the AKC in 2013.
[Read more]
The pack has expanded! The American Kennel Club® (AKC®) announced the Coton de Tulear and Wirehaired Vizsla will be welcomed to its litter of recognized breeds this year, growing AKC's family to 180.
"The AKC is excited to recognize these friendly, outgoing breeds, giving dog lovers everywhere even more choices to fit their lifestyle," said AKC Spokesperson Gina DiNardo. "While they differ in exercise and grooming needs, both are sweet, loyal, loving family companions."
Coton de Tulear

Known as the "Royal dog of Madagascar", the Coton de Tulear joins the Non-Sporting group. The breed originated on the island of Madagascar and was owned only by nobleman. Cotons are small, sweet dogs with a lot of heart. They thrive on human companionship and make loyal family pets. They get along well with children, as well as other dogs. Their long, cotton-like coat requires regular brushing. Additional information on the breed can be found on the
United States of America Coton de Tulear Club's website
.
[Read more]
How impossibly cute is this?
Until next time,
Good day, and good dog!
Announced on the White House Blog, the Obama's welcome Portuguese Water Dog Sunny.
In honor of Bo's new little sister Sunny, the Obamas are making a donation to to the Washington Humane Society.
First Lady Michelle Obama thinks Sunny will follow her brother Bo's footsteps, "We suspect Sunny will follow in Bo's footsteps and keep the President company in the Oval Office, go for walks with the First Family after their 6:30 family dinner and even jump up on the First Lady's lap from time to time!"
The Portuguese Water Dog, a hypoallergenic dog, works great for the Obamas and people with dog allergies. Click to view other allergy friendly hypoallergenic breeds.
(Photos from whitehouse.gov)
From our community Memorial Day parade. These dogs rode the whole way in their "carriage" and never even thought about jumping out! The one dog couldn't be bothered to ride with the rest – he had to have a private car with the baby.
Until next time,
Good day, and good dog!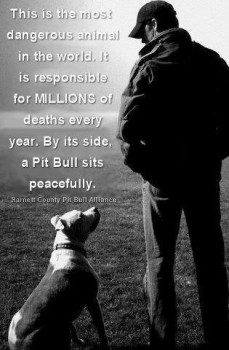 Remember, Pit bulls don't kill people. People who mistreat pit bulls kill people.
Until next time,
Good day, and good dog!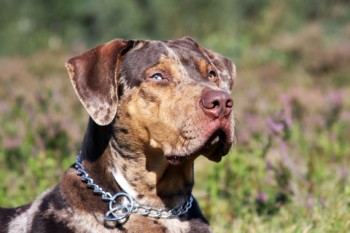 I have to give a shout out to my mom's new pastor, Rev. Rick Olson, of Greenhills Community Church, Presbyterian, who I met for the first time yesterday morning.
[Read more]
I've never made a secret of the fact that I love hounds, although some of the breeds I would call hounds are not included in that group. For example, my beloved Vizsla, Cooper, is in my opinion a hound dog but he belongs to the sporting group.
But I digress. My real point is: which group are you most looking forward to seeing at the 2013 Westminster Kennel Club All-Breed Dog Show?
Until next time,
Good day, and good dog!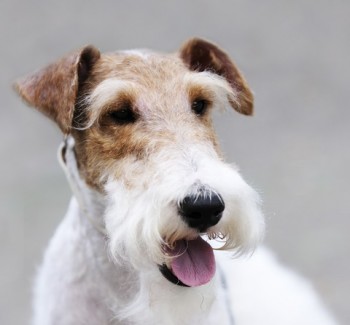 So, let's say you decide you want to make a big splash in the world of dog shows. What breed should you plan on showing? Here's our list of the breeds that have won Best in Show the most times since the show began awarding the prize in 1907.
Useless trivia fact of the day: No Best in Show was awarded in 1923 due to rules changes that didn't allow for breeds to compete against each other.
1. The best of the best is certainly the Wire Fox Terrier, having captured 13 Best in Shows. If you include the Smooth variety of Fox Terrier, the total rises to 17.
2. If you count all of the sizes of Poodle as one breed, they fall in at number two, with 9 wins. Four for the Standard size, three for the miniatures, and two for the toys.
3. Next in line is the Scottish Terrier, winning 8 of the top trophies.
4. The English Springer Spaniel has been distinguished at the top spot six times.
5. Here's where it gets tricky: no fewer than nine breeds are tied with four wins each. The list includes Airedale Terriers, Boxers, Doberman Pinschers, Smooth Fox Terriers, Perkingese, Pointers, Standard Poodles, Sealyham Terriers, and Cocker Spaniels (including Black, ASCOB, and Parti colors).
So, that covers more than 10 breeds.
If you'd rather pick a Group instead of a particular breed, here's how they stack up:
1. With 44 Best in Show wins, the Terrier Group is clearly the biggest favorite.
2. Sporting dogs come in second, with 22 wins.
3. Next, bring on the Working dogs, who have racked up 15 wins.
4. Coming in fourth, everybody's favorite pocket pets, the Toy group, with 10 wins.
5. The Non-Sporting group has had 8 wins.
6. My favorite, the Hounds, have won just 5 times.
7. And bringing up the rear, the hard-working Herders have only won once, with a German Shepherd dog in 1987.
Now you know.
Until next time,
Good day, and good dog!