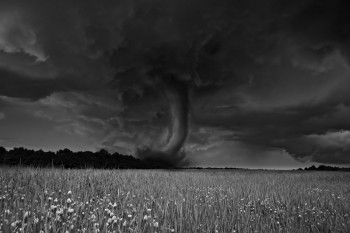 Toto – I don't think we're in Kansas anymore!  From the Chicago Sun Times:  a 130-pound Rottweiler named Chase was swept off his feet by a tornado that touched down in suburban Richtor Park on Saturday.  The storm ripped roofs off buildings, crushed garages, and split trees, in addition to carrying Chase about a block away from his home.
According to Northwestern University' geotechnical engineer Chuck Dowding, given the weight of the dog and the intensity of the storm, such a weird scenario is actually possible. 
Chase was out in his own yard when the storm came and picked him up.  At least three neighbors, including a 10-year old, saw the dog go sailing past their windows.  (Everybody hum the witch's bicycle song from The Wizard of Oz now – da dunt da dunt da daa duh, da dunt da dunt da daa duh.)
Chase's parents Sandra and Sidney Holmes are just glad Chase was okay and came home in one piece.  See a photo of Chase here. 
 Until next time,
Good day, and good dog!
Similar Posts: