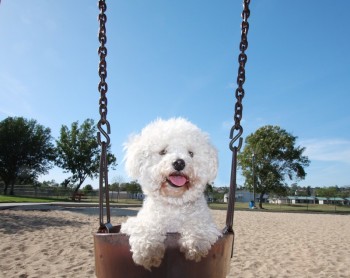 Jackass Acres K-9 Korral in New River, Arizona, has been picked by Dog Fancy Magazine as the best dog park of 2008.  Part of the reason it was picked?  It's green!
No, I don't mean green like the color you wear on St. Paddy's Day.  Green, as in good for the environment.  The dog-washing station is solar-powered.  The artificial turf is recycled.  Even the furniture is made from fallen timber. 
Because the state of Arizona has so much sun, park developers wanted to make good use of it, while showing the world the many uses of solar power.  The park's lights, security system, and water pumps are all energized by the sun.
Anthem Pets, the non-profit community group that built the dog park is led by president Barbara Windgassen, who says, "We wanted to be a banner for solar in a state that has so much sun."  Her group also holds microchip clinics for dogs and cats, and runs an educational program for new dog owners.  In addition, they host a hotline to help pets reunite with their lost families.
The price is very reasonable – families with 1 dog pay just $35 per year, while families with mulitiple K-9s  pay $50 per year.
Oh, and the name?  It's the name of the ranch which used to stand on the property where the dog park is now.
 Check back tomorrow for a listing of the rest of the Top 10 dog parks in America, as named by Dog Fancy Magazine.
Until next time,
Good day, and good dog!
Similar Posts: