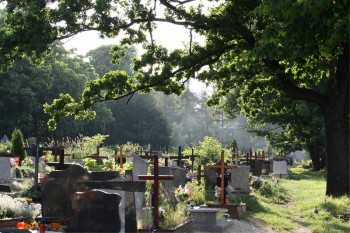 The death of my brother's dog, Lucky, introduced us to a new family tradition.  This is the same brother (and sister-in-law) who live with Chance and think that the dogs are actually children.  In case you couldn't guess, they have no 2-legged children.
When Lucky finally got so old he had to be put down, Jim thought his heart would break.  He took the dog to the vet and sat with him through his final minutes, then asked the vet to cremate him.  When he called back to get the ashes, the vet's receptionist said, "Ashes?  What ashes?"  She told him they still had the body there for the next pick-up of remains.
This destroyed any confidence Jim had in the vet to get things right, so he refused their offer of cremating Lucky that day.  He was afraid they would just grab any old ashes and stick them in a box, and he would lose his Lucky Dog forever, so he asked them to just give him the body back.
Poor Jim, he was unprepared for the fact that the body would be frozen.  Nevertheless, he brought Lucky home and built him a beautiful wooden casket, then dug a hole in the backyard and invited the family over for the funeral.  After saying a few words, Jim passed a bottle of tequila around, everyone drinking a shot to Lucky's memory.
The tequila has now become part of our family traditions.  We drank a toast at my father's gravesite, both when we buried his ashes and when we went back to visit last summer after our annual family reunion.  Mom has already told us she expects the same treatment at her funeral!
What traditions do you have with your animals?  Any stories about their burial ceremonies?  Please post your comments below.
Until next time,
Good day, and good dog!
Similar Posts: