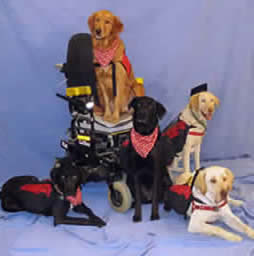 The Associated Press reports today that a new program from the Veterans Administration takes dogs from animal shelters, trains them, and sends them home with soldiers wounded in Iraq and Afghanistan to help them in their recovery.
For example, Harper, a Golden Retriever was recently matched with Army specialist Cameron Briggs who received a traumatic brain injury as the result of a roadside bomb in Iraq.  Harper helps the soldier find his keys, wallet, and other small items he continually loses because of memory loss related to his injury.  In additon, Briggs sustained an ankle injury and doesn't like to use a cane in public, so Harper helps to support him as he walks.
The dogs are being trained in a partnership between the VA and Freedom Service Dogs, a non-profit based in Denver.  The $23,000 per dog cost is paid by donations and foundation grants.  The VA portion of the program is called Wounded Warriors and is based at Fort Carson, Colorado, where these Purple Heart recipients are prepared to return to civilian life.  About 450 soldiers are currently in the Wounded Warrior Battalion, while Freedom Service Dogs can train only 43 dogs per year.
The dogs are also being hailed for their ability to help the soldiers overcome PTSD symptoms resulting from their military service.
What a fabulous idea!
Until next time,
Good day, and good dog!
(Pictured:  Recent graduates from the Freedom Service Dogs program, courtesy www.freedomservicedogs.org)
Similar Posts: