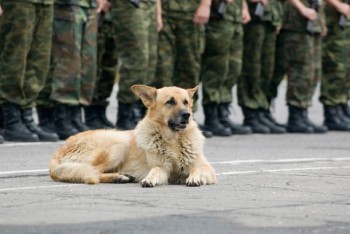 Now that the wars in Iraq and Afghanistan have been off the front page of the newspaper for awhile, it's easy to forget we have brave men and women giving their lives for our freedom.   Whether or not you support the wars, I think we can all agree we need to support our troops, including those who happen to have four legs.
An organization from New Jersey called Support Our 4-Legged Soldiers gives you an opportunity to do just that.  Here's our top ten reasons why you ought to donate if you can.
10.  It's really, really hot in Iraq and Afghanistan.
9.  There's a lot of sand blowing around in Iraq and Afghanistan.
8.  Belgian Malinois, Labrador Retrievers, and German Shepherds are working in Iraq and Afghanistan.
7.  Military K-9s are credited with saving thousands of lives in war zones.
6.  The military provides only the basics for survival:  food, water, and shelter.
5.  Your donation goes to help out the 332 Expeditionary Security Forces Group/K9 at Joint Base, Iraq.
4.  This is a grass-roots organization, founded by a former policeman in New Jersey, Frank Yevchak.  It receives no government funding.
3.  It takes 6 – 8 months to train a dog to sniff out bombs and provide search-and-rescue services for injured soldiers.
2.  Support Our 4-Legged Soldiers buys cooling vests for the dogs, who often work in temperatures of well over 100 degrees.
1.  Support Our 4-Legged Soldiers buys "Doggles" to protect the dogs' eyes from blinding sandstorms.
To Donate:  Contact Frank Yevchak at [email protected] or send a check to Support Our 4-Legged Soldiers / PO Box 947 / Hewitt, NJ, 07421. 
Until next time,
Good day, and good dog!
Similar Posts: