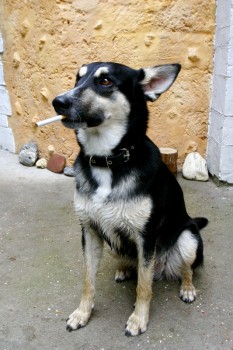 Research has shown that secondhand smoke is linked to certain cancers and allergies in dogs.  Now WebMD reports that many smokers are willing to try to quit if it means it will improve their pets' health.
In an online survey, about 28% of smokers said that learning about the effects of secondhand smoke on their pets would be enough to motivate them to quit.
In addition 16% of non-smokers who live with a smoker would ask the smoker to quit based on information regarding secondhand smoke's impact on pets.
Trying to quit, but having trouble with motivation?  You'd do anything for your dog, wouldn't you?  Why not take care of that habit you've been trying to kick for a long time, anyways?
Until next time,
Good day, and good dog!
Similar Posts: