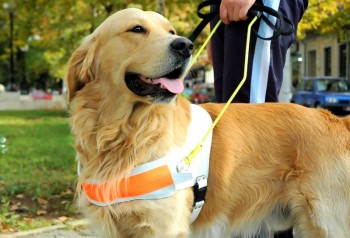 OK, we all know there are many advantages to sharing your life with a dog, but how about this! The New York Times is reporting on a study being done by the the Eunice Kennedy Shriver National Institute of Child Health and Human Development, part of the National Institutes of Health, in cooperation with the Waltham Center for Pet Nutrition in England (part of the Mars candy and pet food company).

The study is still in its infancy, with the National Institute of Child Health seeking proposals that "focus on the interaction between humans and animals." In particular, it is looking for studies on how these interactions affect typical development and health, and whether they have therapeutic and public-health benefits. It also invites applications for studies that "address why relationships with pets are more important to some children than to others" and that "explore the quality of child-pet relationships, noting variability of human-animal relationships within a family."
The study originated based on all the stories that have been published of dogs having such a great effect on kids, particularly those children who have emotional problems. If you read the whole article, you will learn about a dog who had a tremendously calming effect on an autistic child, to the point where he may be able to stop taking some of his medications.
We all know our dogs are special, but this study may point out just how special and why.
Until next time,
Good day, and good dog!
P.S.  Coming soon to the Dog Den:  an article on hero dogs and how they have impacted their humans' lives.
Similar Posts: