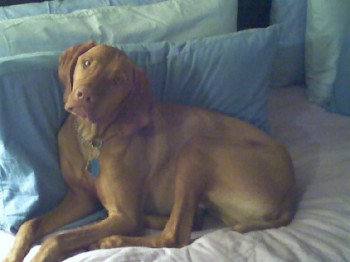 Last night, I was sitting in my La-Z-Boy writing an article, and Twiggy (one of the cats at my house) jumped up into my lap, which is the normal resting place for my Vizsla, Cooper. Even though he was perfectly comfortable on the bed, he had to come chase Twiggy off of my lap, but halfway there, he stopped to scratch.
Meanwhile, Twiggy saw Cooper coming, jumped down, and ran under the bed. Cooper finished scratching and started to come back toward me, then noticed the cat wasn't there. He was so funny searching for her! He went around behind the chair, looked under the footrest, ran downstairs and looked around, scratched at a couple of closed bedroom doors, then came back up. He looked in the room where we keep the cat food and litter boxes, checked the bathrooms. I bet he was searching for her for a good 5 minutes. It just cracked me right up!
Until next time,
Good day, and good dog!
Similar Posts: