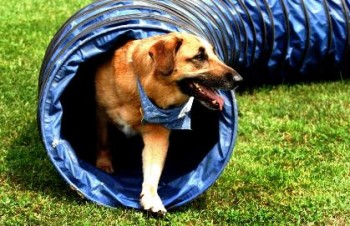 Have you planned your summer vacation yet?  Were you worried about where to board your dog?  Why not just take the dog on a vacation with you?
I was looking at a friend's profile on Facebook the other day and this ad popped up on my sidebar for Canine Club Get-Away.  Boy does this look like a neat place!  Roaring Brook Ranch, located in the Adirondacks, offers a 4-day get-away for you and your dog.
They offer various dog sports including agility, flyball, lure coursing, and water sports, and lots of seminars for you such as first aid and learning to read your dog's body language.
Camp runs June 2 – 6, 2010 and costs about $1000 per person (depending on occupancy).  The rate includes three meals a day and all activities.  Worth checking out if you're looking for a fun way to spend some quality time with your dog in a beautiful setting.
Here's the web site:  http://www.canineclubgetaway.com/
Let me know if any of you go or have gone in the past – I'd love to hear about your experience!
Until next time,
Good day, and good dog!
Similar Posts: