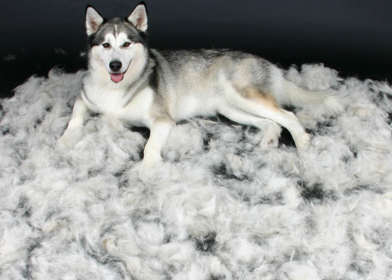 In the wild and wacky world of dog news this week, this story really caught my eye.  According to Matter of Trust, a charity focused on recycling, there is an actual use for all of the fur you comb or clip off your dogs.  Seems it is very good at absorbing oil!
Matter of Trust is encouraging all dog groomers to send the fur they would normally throw into a landfill to them for oil spill clean-up.  Think about it.  You wash your hair frequently to prevent it from staying oily, right?  So it stands to reason that hair likes to hang on to oil. 
Matter of Trust is asking for nylons (many of which have been donated by the Haynes corporation), which they then stuff with the donated dog fur and use to clean up the oil.
When you sign up on their web site to be a fur donor, you will receive specific mailing instructions so your dog can contribute to the clean-up.
Told you it was wacky news Wednesday!
Until next time,
Good day, and good dog!
Similar Posts: